Welcome to Scrapwood Martial Arts. Makers of Fine handmade hardwood martial arts staffs.
We specialize in high quality hardwood staffs such as full size Bo Staffs, Jo Staffs, hanbo, and Escrima sticks. We use the finest, hand selected hickory hardwood, Ipe Wood, and Purpleheart. Let us help you get the perfect Staff for any needs!
Currently we are fully stocked with the highest quality hickory wood for all our products. We are working on filling in much of the inventory over the coming months. So if there is a product you are looking for that doesn't show as 'in stock' most likely we can make it and would be happy to set up a custom order for you. Please feel free to contact us at scrapwoodmartialarts@gmail.com And we will be happy to help!
Our most popular collections.
Hickory Weapons
The strongest most reliable wood money can buy. Hickory is the hardest North American wood and it is known for its impact qualities and durability. Many of our martial arts weapons feature this wood. 
Shop our Hickory Collection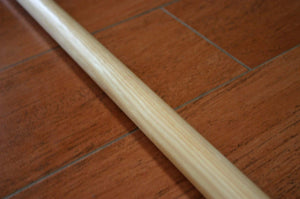 Laminated Weapons
Laminations, or thin combined strips of wood, add beauty, and strength to any weapon. 
Shop for Laminated Weapons
Ipe Wood
Ipe is one of the hardest and heaviest woods in the world. We make many very popular hanbo and jo staffs and tanbo sticks out of this wood.  
Shop Ipe Wood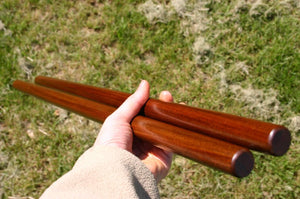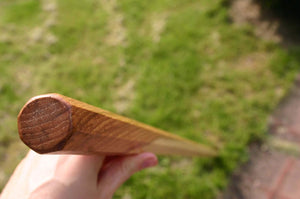 Octagonal Weapons
Due to their design, Octagonal weapons are excellent expecially for for hiking or wilderness purposes as they have superior striking surfaces, and hold especially well with the user's grip.
Shop Octagonal Weapons
Our Featured Product
Solid Ipe Jo Staff. Over twice as hard as hickory, and noticeably heavier, these staffs have a wonderful smooth feel and rich dark color.